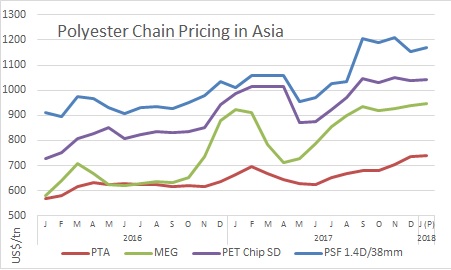 Polyester prices to rise in Asia on cost support
After edging down in December despite PTA-MEG cost marching higher, both virgin chip and polyester prices are expected to inch up in January 2018 on feedstock costs. But soft demand for seasonal reasons will continue to limit polyester prices to rise. The chances of latter are much more before China goes off for a long National Day holiday in mid-February. Generally, yarn makers reduce fibre intake to maintain lean inventory, also of end products before proceeding on holiday.  Polyester staple prices in other Asian countries will stop increasing as demand has already shown signs of weakening and some producers willingly offered discounts on export prices to keep volumes moving.
Polyester filament yarn prices may inch up in January following upward fluctuations in crude oil and thereby the raw material. Sales may cool down by month end, as China will take a long holiday in mid-February. Generally, before the holidays most PFY maker reduce or shut production.
Upstream, the bullish sentiment in Asian MEG markets will gain traction in January as sellers will hold on to cargoes and higher bids will surface. Offers to China have already surged above US$1,000 a ton CFR CMP mark in early January and MEGlobal has already hiked January Asian Contract Price by US$20 to US$1,080 a ton CFR Asia.
PTA prices are likely to move up further in January as crude oil price will continue to remain at firm levels and paraxylene markets will follow up strongly on the back of growing demand. PTA market fundamentals will remain healthy catching attention from funds and futures market.
With MEG and PTA likely to see an uptrend in prices, polyester fibre grade chip prices will be pushed up but poor demand can be a restrain. On the other hand, complete ban on waste imports in China will halt recycled polyester production which can shift demand for virgin products. However, there is need to closely watch the development post ban, as 25% of polyester capacity rely on waste material.
You may also like