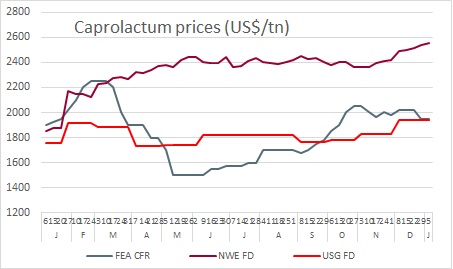 Nylon prices and markets opened 2018 dropping
Nylon prices along the chain were seen dropping opening the first week of January, a trend already set during end-2017. Going forward, seasonal demand will be relatively strong for FDY, so support for price increased is strong. FDY, used in high density taffeta and popular in spring jacket manufacturing will see demand to fall over the next two months as mill demand heads towards warmer weather apparel in most part of North and North-East Asia.
NFY prices continued to fall at the upper end of the price range indicating high cost goods pegged lower as market remained bearish. Nylon yarn makers operated at low rates due to seasonal lull while demand for FDY, DTY and POY was still need-to basis ahead of the lunar year-end in China when markets generally turn bearish.
Nylon chip prices were seen dropping further in China while Taiwan origin chips prices mostly rolled over. Given insipidness in caprolactum market, nylon chip players were more prudent, and prices dipped. Demand remained rigid given sluggish feedstock. In Europe, December 2017 nylon 6 contracts surged following upstream rise, while January outlook was unclear. Nylon 6,6 contracts also rose, following upstream surge and unchanged fundamentals.
CPL prices were seen falling at the upper end of the range across origins implying that high cost goods were receding. Although feedstock benzene was range bound, CPL market still trended down. In China, liquid CPL prices were down 1.2% while solid materials were cheaper by 2.25%. Demand seem to remain stagnant with polymerization units and yarn makers operating at 78%. In Europe, December contracts swelled triple-digits following upstream rises and balanced market conditions.
Asian benzene prices fell midweek but rebounded later amid firm crude futures to post weekly gains. Markets were also seen reflecting the overnight fluctuations in US benzene markets and the arbitrage window from Asia to the US remained open. In US, spot benzene prices softened on increased domestic supply and hefty imports. European spot prices plunged on diminishing demand from derivatives and poor export opportunity as arbitrage window to US was closed.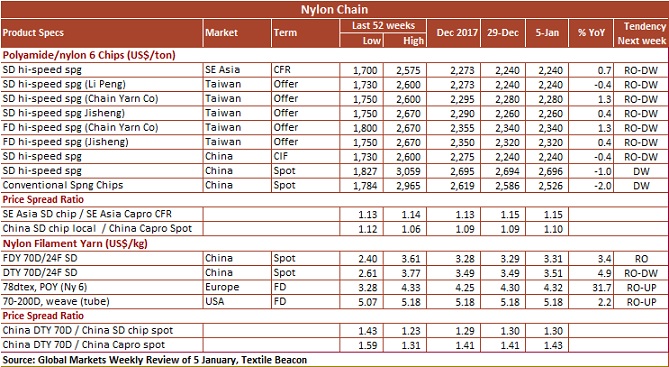 You may also like