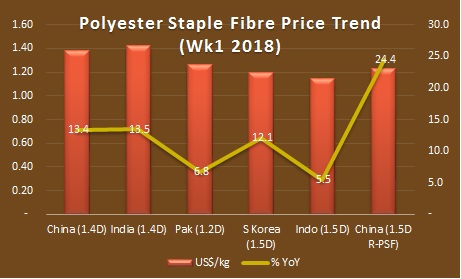 Global polyester markets in the first week of 2018
Polyester markets are guided by feedstock ethylene and paraxylene which are converted into MEG and PTA to produce polyester staple fibre (PSF) and polyester filament yarn (PFY). Polyester chips are also used to produce PSF and PFY which has its root to PTA and MEG. Market trends and price drivers in the week of 5 January are compared week on week basis.
Ethylene markets in Asia remained buoyed by firm demand and tight supplies in the first week of 2018 while they remained elevated in US amid production issues and delay for several cracker restarts. However, December contracts settled at a decrease from November. European ethylene spot inched up amid weak market activity after the new year holidays. Paraxylene markets in Asia continued to remain supported by firm demand from PTA makers while discussions rose tracking the surge in crude values. European Px spot climbed to 30-month high on bullish pricing activity in Asia while US spot was also assessed higher, tracking higher Asian numbers and stronger crude
Polyester raw material MEG prices surged to US$1,000 a ton in Asia as discussions for imported cargoes in China gained traction from bullish sentiment after crude oil prices jumped while European MEG spot kicked off a strong start on replenishing activity. In US, MEG demand remained slow on seasonality, although it received some support from the antifreeze sector as the region experiences record-breaking cold weather. PTA markets moved up further in Asia, as crude price continued to rush up influenced by the geo-political situation in Iran. In Europe, PTA market anticipates good demand in 2018, mainly from polyester market while spot remained unchanged. In US, PTA market saw little activity and players awaited upstream Px contracts to conclude.
Polyester fibre grade chip prices moved up rapidly, pushed by rising cost of PTA and MEG in the first week. Semi dull chip market firmed up as some makers hiked offers in China amid extremely tight supply.
Polyester filament yarn (PFY) prices were lifted in China following upward fluctuations in crude and PTA futures. Overall trading atmosphere was somewhat calm, as downstream mills were less active after previous restocking. In Pakistan, selling indications for DTYs were heard flat while Indian POY prices were stable amid soft trading activity as mills purchased from hand to mouth volume.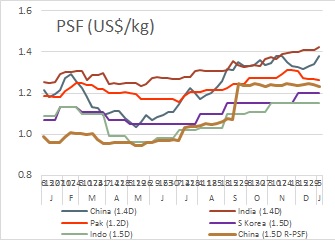 Polyester staple fibre (PSF) prices inched up in China as PTA-MEG cost marched higher after the New Year Day holidays. Downstream mills and traders made larger procurement, leading to brisk transaction. In Pakistan, PSF prices continued to remain unchanged, but the new rise in raw material could push PSF up soon. In India, producers price remained unchanged for the moment as raw material cost saw fresh rise.
Polyester spun yarn prices were seen moving up in China, flat in Pakistan and moderating in India. In China, 32s and 45s spun yarn values moved up on rising PSF cost in recent past while demand remained modest. In Pakistan, polyester yarn spinners were unable to raise prices in line with the surge in raw material costs, implying eroding gross margins at current levels. In India, polyester yarn prices weakened slightly, and exporters may take advantage of the return to price competitiveness.
Source: Global Markets Weekly Review
You may also like