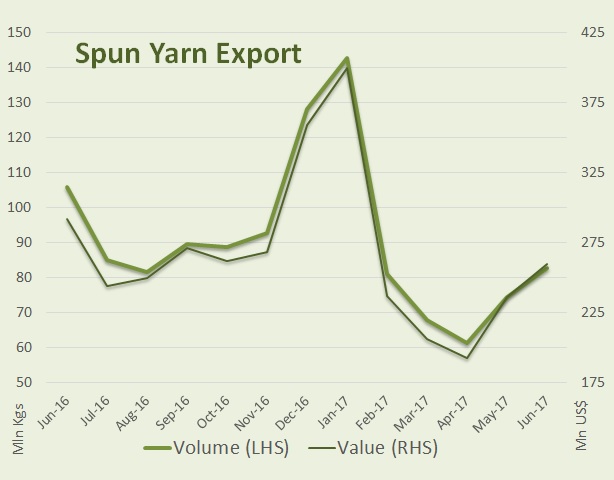 Yarn export declines slower in June 2017, price realisation up
Spun yarn exports aggregated 83 million kgs in June 2017, down 22 per cent and 11 per cent in value at US$260 million. However, they were 11 per cent more than May shipment. Shipment in June was also adversely impacted by the production cuts just before the rolling in of the Goods and Service Tax regime from 1 July. Producers and trader refrained from accumulating inventory and were busy offloading surplus stock.  Unit value realization averaged US$3.14 per kg, down US cents 3 from previous month but up US cents 39 as compared to June 2016.
Cotton yarn was exported to 71 markets worth US$214 million (INR1,360 crore) and volumes at 66 million kg. The aver-age unit price realization was at US$3.23 a kg, down US cents 7 from previous month and up US cents 46 from the same month a year ago. China reemerged as the largest importer of cotton yarn from India in June, followed by Bangladesh and Turkey. 15 countries did not import cotton yarn from India this June as they did last year. However, they were replaced by 12 countries which imported yarn worth US$1.6 million in June 2017.
Brazil, Turkey and United Arab Emirates were among the fastest growing markets for cotton yarn, and accounted for 10 per cent of total value of cotton yarn exported in June.
100% man-made fibre yarns export was at 6 million kg in June, comprising 3 million kg of polyester yarn, 1.9 million kg of viscose yarn and 1.1 million kg of acrylic yarn. Polyester yarn exports were down 0.4 per cent in value while viscose yarn exports value plunged 47 per cent during the month. Acrylic yarn exports were down 18 per cent in June.
Polyester spun yarns were exported to 43 countries in June aggregating US$7 million with unit price realization averaging US$2.34 a kg. Turkey was the largest importer of polyester yarn, followed by Iran and URA
Viscose yarn worth US$6 million or INR39 crore was exported in June with shipment at 1.9 million kg, implying average unit price realization of US$3.25 per kg. Iran was the top importer worth US$1.3 million, followed by Belgium with im-ports worth US$1.1 million.
Blended spun yarns worth US$30 million were exported in June, down 23 per cent YoY while volumes down 27 per cent at 10.3 million kg. During the month, 6 million kg of PC yarns was exported worth US$16 million. Another 3 million kg of PV yarns valued at US$9 million were exported.
Egypt and Brazil were the largest importers of PC yarn from India in June followed by Bangladesh. In June, Turkey was the largest importer of PV yarns from India followed by Iran with total volume at 2.2 million kg worth at US$6.2 million.
In June, all filament yarns export totaled 48 million kg, down 50 per cent YoY while value declined 44 per cent at US$77 million. Filament yarns include polyester, nylon, polypropylene and viscose filament yarns and were exported to 80 countries during the month.
In June, 2.94 lakh bales (of 170 kg each) of cotton was exported as against 1.57 lakh bales in June 2016. Bangladesh and Indonesia were the largest importers of cotton with combined volumes at 1.96 lakh bales amongst the 19 countries that imported cotton from India in June.
Exports of manmade fibre were at 24 million kg, worth US$38 million. These included ASF, PSF, VSF and PPSF. USA and Belgium were the largest importers of PSF during June while Turkey and China were the major importers of VSF.