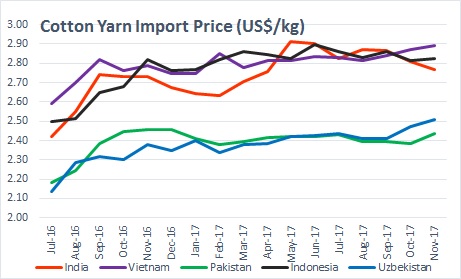 India is regaining share in China's cotton yarn imports
India is regaining its share in China's cotton yarn imports as it is evident from the increase in its import from India in the recent past. In November 2017, China imported close to 45 million kgs of cotton yarn from India valued at US$124 million, which accounted for 23% of its total imports during the month. A year ago, the same share was less than 19% which had fallen to just 8% in May 2017. Since then imports have risen dramatically to reach above 23%. In October and November imports from India rose 40% and 37% respectively, year on year while the total imports corresponding grew 22% and 10% in the two months. This implies that although China's cotton yarn imports had slowed down, that from India had risen significantly.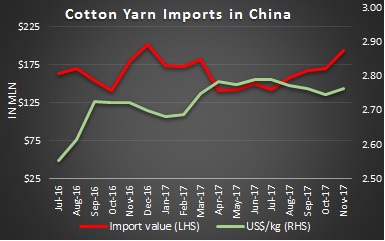 The turnaround can be explained by two factors. One, India has been a reliable trading partner also among other items and there has been increasing trade surplus for China. Two, price offers to China has become more competitive than they were in May as they are cheaper by almost US cents 15 a kg since then.
In November, Indian cotton yarn shipment to China were majorly of 32s and 21s count yarns, followed by 40s and 16s cotton yarn.
Above India is only Vietnam. China was importing more than 40% from Vietnam until October, which has fallen to less than 35% in November. The shift away is largely due to higher pricing of Vietnamese yarns compared to India. In May, Vietnam yarns were US cents 10 cheaper than India, which in November reversed and have become dearer by almost US cents 12 a kg.
Pakistan, the third largest cotton yarn supplier to China, has almost maintained its share at around 15% of China's total imports by maintaining prices at US$2.40 a kg for almost a year now. But most yarns are of coarser counts and hence average prices are the lowest than all top suppliers to China. But the proportion of volume varies significantly month on month.
Source: Fibre to Yarn Export Statistics – India report Textilebeacon.com
You may also like